Bibione il Villaggio del Mare

The events of Bibione do not end with the summer, but also continue in autumn with a rich calendar entitled "Bibione il Villaggio del Mare" (= the Village of the Sea): many family-sized events in Piazzale Zenith, in the tensile structure that will host sporting events, music, shows and food-and-wine proposals.
We will be able to experience together all the charm of the sea during the autumn weekends with the following program:
28-29 September:

Dog and Run

, a weekend dedicated to the running with the dog, the first dog running festival in Italy
4-6 October: Food on the beach, culinary contest with workshops, show cooking, tastings and shows
12-13 October: Bibione Connection, the disco by the sea with Radio Piterpan DJs on Saturday night and the cycle tour "Scuola in movimento" (= School on the move) on Sunday morning, dedicated to children
19-20 October: Bibione's Island race, mountain bike race on tarmac, sand and dirt tracks
26-27 October: Enduro Bibione, two days of motorcycle races with over 300 professional drivers competing, even at night
1-3 November: Festa della Castagna, with a bag of chestnuts, good wine and music to welcome you in the first weekend of November
On the following Sundays of November, further musical and gastronomic proposals with local products.
Finally, from 8 December 2019 to 6 January 2020, the tensile structure will dress up with the magic of Christmas and will become the "Christmas Village" with a rich program of events that will accompany us throughout the Advent and the Christmas Holidays up to Epiphany.
What do you think? Is it worth living the sea and our beach even without a sunbed and sun umbrella?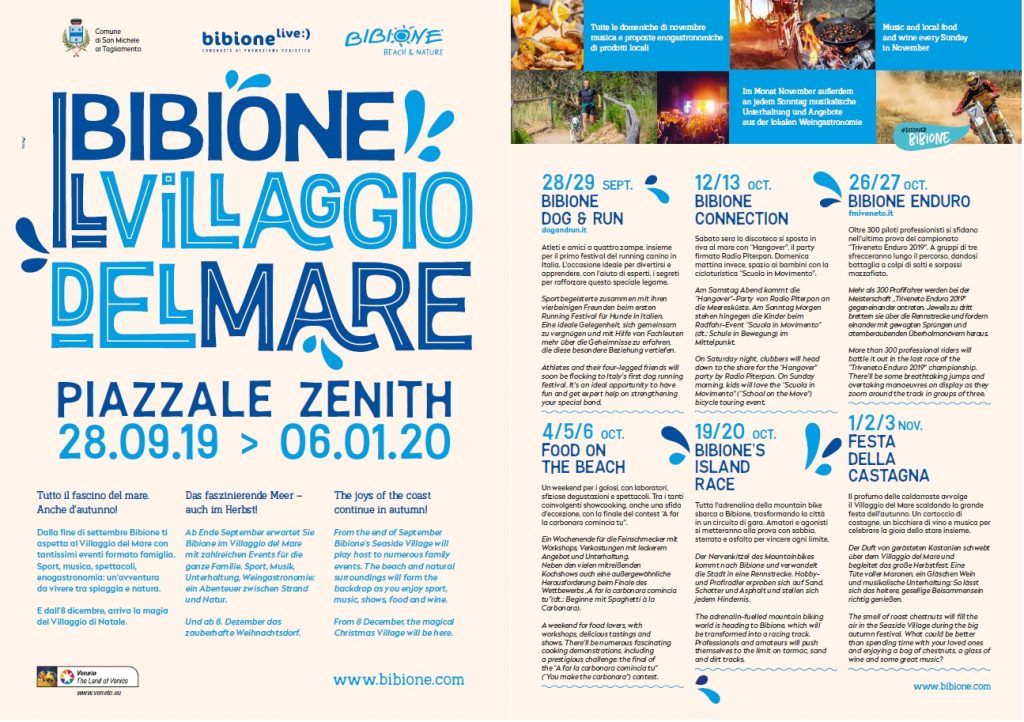 Where: Piazzale Zenith, Bibione, VE, Italia
When: September, 28 - January, 6